We [heart] our Muslim neighbour
We have all been shocked by the awful terrorist attack in Christ Church New Zealand. A result of it is that here in Luton and around the world Muslim communities are feeling very vulnerable.
The aim of terrorists is always to separate the community. To polarise people and communities, cause distrust, make them feel they are alone, that the other person does not understand.
However From New Zealand and around the world we are hearing stories of how people are coming together, defying the intent of the terrorist.
Here in Luton, flowers have been distributed to Muslim parents outside one or two schools. Andy Gliddon, curate at St Hugh's in Lewsey, and his wife Rowena put a great big sign in their window saying "We [heart] our Muslim neighbours." A day later they had a large delivery of food from the local Peri Peri shop!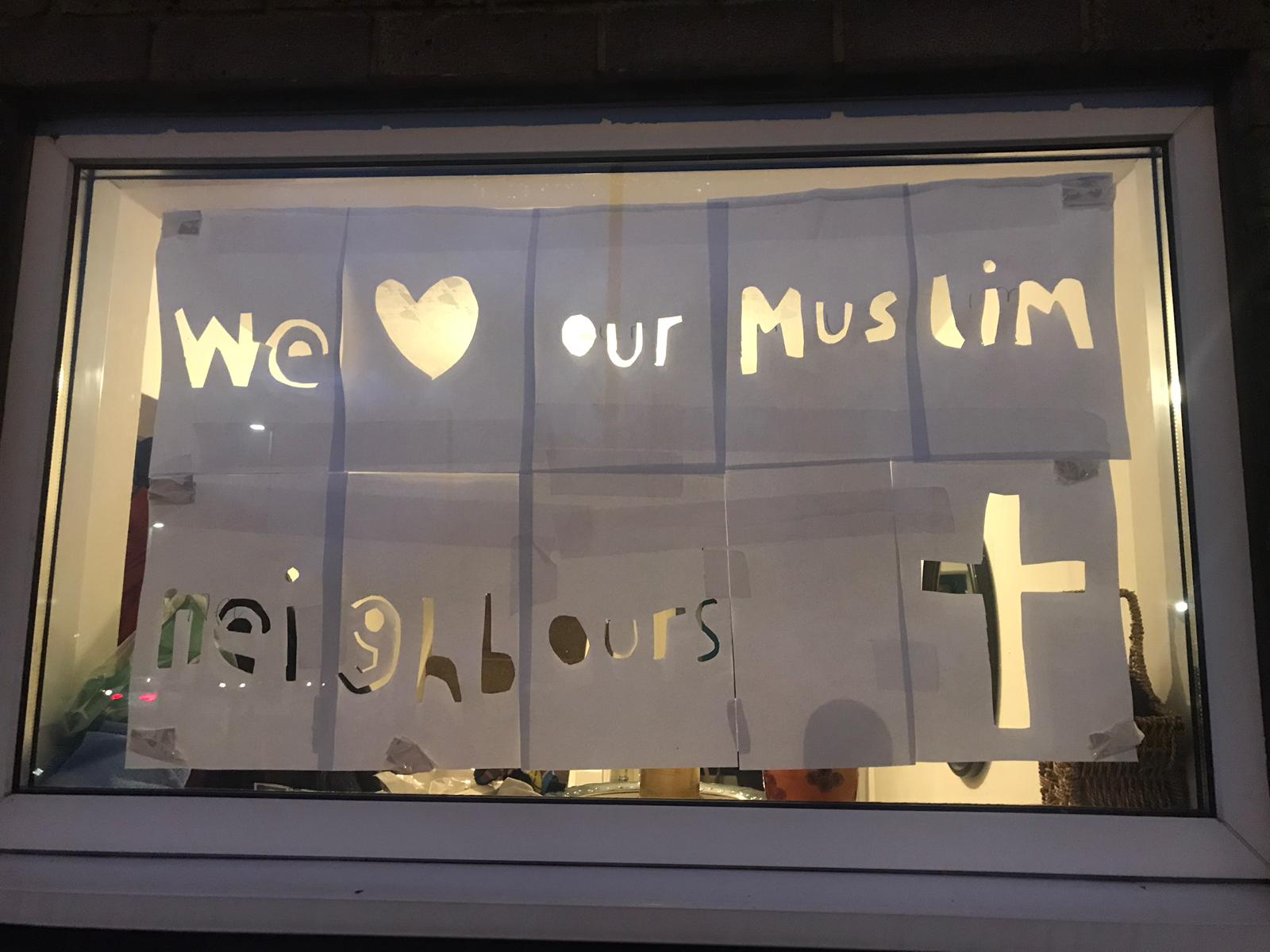 A simple heartfelt expression of neighbourly concern
Speaking at the vigil outside Luton Town Hall on Monday Peter Adams, speaking for us, said very clearly to our Muslims friends and neighbours in Luton. "You are not alone in this."
We must look hard at how we can work together to make this town, this nation, a safe place for all, a town where hatred and prejudice cannot stand. A town where all can have hope, and especially where our children can live without fear.
Picking up Andy and Rowena's lead we have had banners and posters produced with the following message:
Let's ensure many in the town see that message of love and acceptance at a time when so many are feeling fear.
Let us know if you could use a 2ft X 4ft pvc banner for railings or wherever.

We ask that you look to print up the poster and put it on your notice boards. ASAP

Also print up some on A4 or A3 for members to place in front windows, or wherever people will see it.

Print up the banner version as a car sticker.

Put details of the posters and banner on your website or in emails so that people can print themselves.

Put the social media friendly image on your social media and encourage people to repost it.
We have no doubt this will attract attention. Maybe it will be deliveries of Peri Peri Chicken and Pizza like in Andy's case! Maybe it will be Samosas! If you are worried about how to respond, the simple message is to say: "Thank you! How are you doing!" Just as you would to any other neighbour feeling vulnerable. But we are here to help you. And if there are negative reactions to our message from among your own members or neighbours , and you need advice please again be free to contact us.
Finally, this is not enough. These are words, though words that express heartfelt emotion, and moreover the heart of our faith as Christians. There will be more.
Update: Sadly since the time this was written we have seen what seems to be a coordinated attacks on five mosques in Birmingham. This unacceptable, and as a nation we must act to stop the escalation of such attacks. But at the heart of it is our own heart. Our words are not enough, but they hopefully they will provide comfort, and perhaps as importantly challenge our own actions and behaviour.